Daryl Lindsay, Psy.D..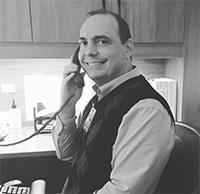 Dr. Lindsay earned his Doctorate of Psychology (Psy.D) in Clinical Psychology from Forest Institute of Professional Psychology in Springfield, Missouri. While at Forest, he completed an emphasis tract on the integration of psychology and spirituality and completed an American Psychological Association Accredited Internship at the Northwest Georgia Regional Consortium in Rome, Georgia. During his year in Georgia, he worked in both outpatient and inpatient settings, caring for individuals diagnosed with persistent mental illness, forensic patients, and children in a residential treatment center.
Upon earning his doctorate in 2005, Dr. Lindsay began his postdoctoral residency at the Southeast Missouri Mental Health Center located in Farmington, Missouri where he served as a ward psychologist for patients adjudicated as either Not Guilty By Reason of Mental Disease or Defect or Incompetent to Proceed. He later transferred in 2006 to the Eastern Reception and Diagnostic Correctional Center where he completed his residency and worked with offenders in the maximum secure facility until moving to Florida in 2015.
Since 2015, Dr. Lindsay is imbedded in a primary health clinic providing integrated psychological services to active duty military, veterans, and their families. In this setting, he provides short, solution focused treatment to decrease behavioral impact on medical conditions with the overall goal of symptom reduction, both psychologically and physically.
Additionally, Dr. Lindsay's past experience includes providing third party disability evaluations for the Social Security Administration, working with hospice, and teaching as an adjunct professor.
Dr. Lindsay has expertise in a variety of issues, including:
•
Age 18+

•

Brief Therapies

•
Anxiety
•

GLBTQI

•
Depression
•

Life Stress

•
Insomnia
•
Women's issues
•
Grief & Loss
•

Phobias

•

Spiritual Abuse

•

Behavioral Health Care for Medical Diagnoses (IBS, Chronic Pain & Headaches, ect.)